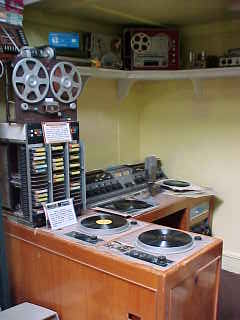 A New Zealand Broadcasting Service (NZBS) radio station control desk. The audio mixing console across the back of the desk is a 'Gates' type. At the left of the photo is a cartridge tape replay unit. The radio advertisements were recorded on these cartridges for replay as required.





This two kilowatt broadcast band radio transmitter was built by Amalgamated Wireless Australia (AWA) and was installed by the New Zealand Broadcasting Service (NZBS) at their Bell Block transmitting site. Some of the large transmitting valves are visible just to the right of the information sheets in the centre of the photograph.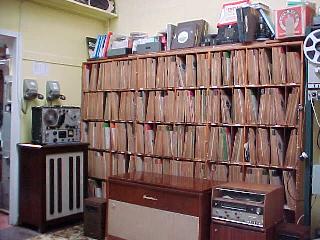 The cabinet at the back houses many of the 78 rpm records at the museum. At the left of the photo is a 'Rola' professional type audio tape deck. There is a 'Ultimate' brand radiogram in the lower centre of the photo and to the right of that is an 'AWA Series 9' stereo system.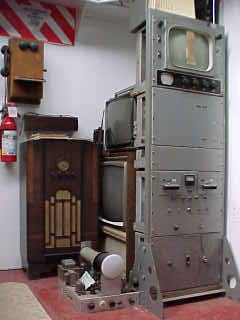 The radio on the left of the photo was made by Atwater Kent. The rack on the right houses a small Philips black and white TV transmitter. To the left of it is a home built TV with a 6 inch screen. It was used at Waitara in Taranaki to receive television pictures from Australia in 1960 when atmospheric conditions allowed.